Live updates: Russia's war in Ukraine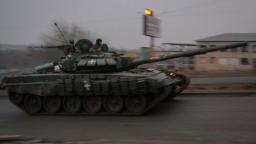 Regular and sustained artillery could be heard around the Ukrainian town of Chasiv Yar, five kilometers (more than 3 miles) west of the besieged city of Bakhmut, reported by a CNN team on the ground.
CNN witnessed convoys of Ukrainian armored vehicles heading in both directions along the main supply road into Bakhmut in eastern Ukraine on Thursday. One tank group gave CNN the "V" for victory sign. 
Ukrainian "infantry are fighting against what remains of the Wagner group and at least two Russian paratrooper battalions," a soldier who has been in Bakhmut for weeks told CNN.
Another Ukrainian soldier said they had no intention of retreating from Bakhmut.
"If we leave Bakhmut, Russians will start destroying the next Ukrainian villages and towns," they said. 
Chasiv Yar would likely be the next target for Russian forces should they claim Bakhmut, according to Ukrainian military officials.
CNN spoke with residents in the town at a bus stop serving as a delivery point for tarpaulin to cover their windows.
One elderly lady, Valentina, said that many shells were flying overhead and that from certain points in the town "you can walk to Russian positions."
Some context: Ukrainian commanders and soldiers have described the situation in and around Bakhmut as extremely difficult in the past few days.
Ukraine's military general staff has acknowledged that Russian forces have been able to make gains in the city and were no longer operating only on the outskirts.
Ukrainian commanders have also said they are not planning on withdrawing from Bakhmut yet.